Everyone is happy whenever two adults in love decides to seal their relationship by walking down the aisle.
But how would you react to a wedding between two incredibly young children? To find out, check out this list of the five youngest wedded couples in the world.
1. Yusef Nasser Hassan and Gharam Reda Muhammed
Yusef Hassan and Gharam Reda are from Egypt. Yusef is 12 years old and Gharam is 11 years old. The couple's parents said that the boy and girl had been in love since they were born.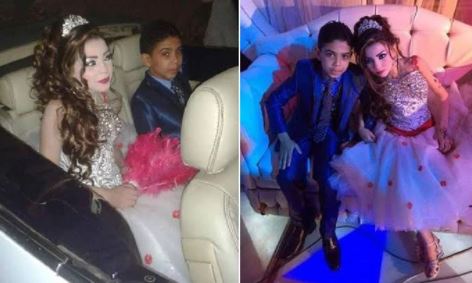 This engagement happened while Yusef and his families were celebrating their eldest son's lavish wedding party. At that time, Yusef Nasser's father decided to double the joy by announcing the engagement of his youngest son who was 12 years.
2. Jose Griggs and Jayla Cooper
A beautiful nine-year-old girl from South Lake Texas got married to Jose Griggs, who was 7 years at the time. Her parents said it was her final wish before she died. Jayla Cooper was suffering from last stage leukemia and the doctors said that she only has a couple of weeks more to live. The little girl knows this and she asked her parents to do this one last thing for her.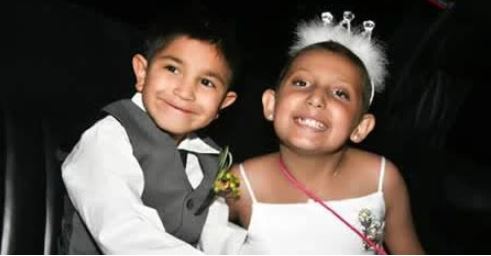 They agreed and organized a beautiful wedding for their daughter. She married her friend Jose Griggs whom she met in a medical hospital and he was also diagnosed with leukemia. This ceremony created a lot of buzz on the internet with some saying, "that what happened was a sin" while others expressed sympathy and compassion for the little girl.
3. Bonnie Buckland and Leslie Coneley
Bonnie Buckland and Leslie Coneley are from Britain. Leslie Coneley may be too young to vote, drink alcohol or drive, but at 16 years, Leslie Coneley was old enough to wed his childhood sweetheart. This teen became Britain's youngest groom after marrying just 18 days after his 16th birthday. On August 7th, Leslie married his long-term girlfriend Bonnie Buckland who was 17 at a lavish ceremony in Swindon Wiltshire.
4. Eileidh Paterson and Horrison Grier
Five-year-old Eileidh Paterson fulfilled her dying wish to be a bride when friends and family put on a heartwarming fairy tale ceremony for her and her best friend. Eileidh Paterson was diagnosed with neuroblastoma, a rare form of childhood cancer. Her last wish was to marry her best friend Horrison Grier who was six years old.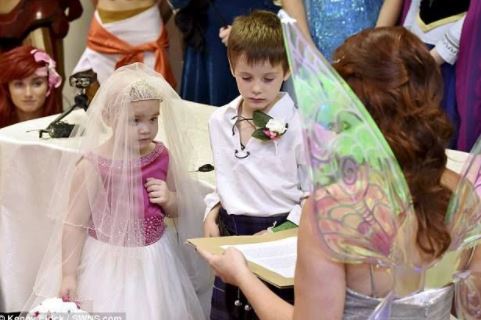 So her family set up a ceremony to marry her and her bestie Horrison Grier. her dream came true when the pair exchanged necklaces and were declared best friends forever in a ceremony attended by family, friends and a cast of costumed princesses and superheroes.
5. Teen marriage in China
The photos of two teen dressed in wedding gowns and suits of what seemed to be a wedding scene triggered heated discussions on Chinese social media. The two teen were allegedly reported to be a 13-year-old groom and a 16-year-old bride. The couple both from southwest China's Guanxi Juan autonomous region claimed to have known each other for over a year. Both allegedly dropped out of school.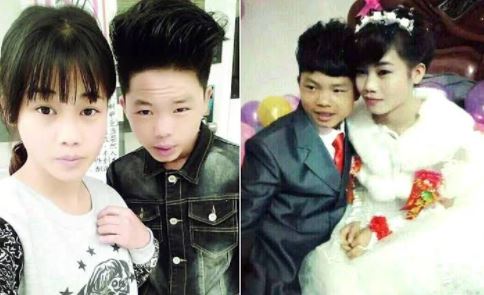 Aside from clarifying their ages in an online statement, the two also refuted netizens speculation that the marriage was due to the bride's pregnancy. The 16-year-old bride said the marriage between them was just inevitable after knowing each other for over a year. "So we just hold the ceremony and we'll get a marriage certificate after we reach our legal age," she said.