Shaffy Bello: "I had to sacrifice my marriage for my career"
Actress Shaffy Bello has opened up about what led to the end of her marriage. Bello during an interview with Chude Jideonwo in his #WithChude show shared that she split from her husband five years ago to pursue her ambition in Nollywood.
The 50-year-old mum of two said she felt boxed in by her marriage and motherhood and needed to break free. Bello who grew up in the United States said her freedom came but at a high cost.
"I wanted to spread my wings. I felt like I was pregnant and I couldn't have a child. I felt like my wings were closed in and I was boxed in. I was yearning for more but didn't realise what sacrifice will come with that," she said.
"I paid the price of [not] having a connection with my children. Coming to Nigeria, I would stay in my room sometimes and cry, like, 'oh my gosh, what am I doing?' I left them. My daughter was 13 and my son was 11.
"Now mind you, I was a hands-on mother: come home, take a nap, set the table, all of that. And I mean, quit my job just to raise my children. That's why I only had two. So when they grew up to a certain extent, I went back to work."
Also read: Shaffy Bello clocks 50, drops gorgeous pictures
The actress said she had to sacrifice her marriage for her career in Nollywood.
"I sacrificed everything because I believe that they didn't ask to be born. I wanted to give them everything. Leaving them was a huge sacrifice, but it turned around for good. I came back and wanted to be a Yoruba actor.
I found my calling; paid the price of divorce five years ago. He was a good man but I got to a place where I wanted more. I had to make that choice to focus on what I wanted. I've worked too hard and I'm sacrificing nothing."
Shaffy Bello is one of Nollywood's most beloved actresses, with a fan base in both the young and the old.
The actress first graced the entertainment scene when she voiced backup for Seyi Sodimu's 1997 hit song 'Love Me Jeje".
She's since gone on to star in several Yoruba and English Nollywood films and TV series including  'When Love Happens', 'Gbomo Gbomo Express', 'Taste of Love', 'Chief Daddy', 'Elevator Baby', 'The Men's Club', 'Your Excellence" and others.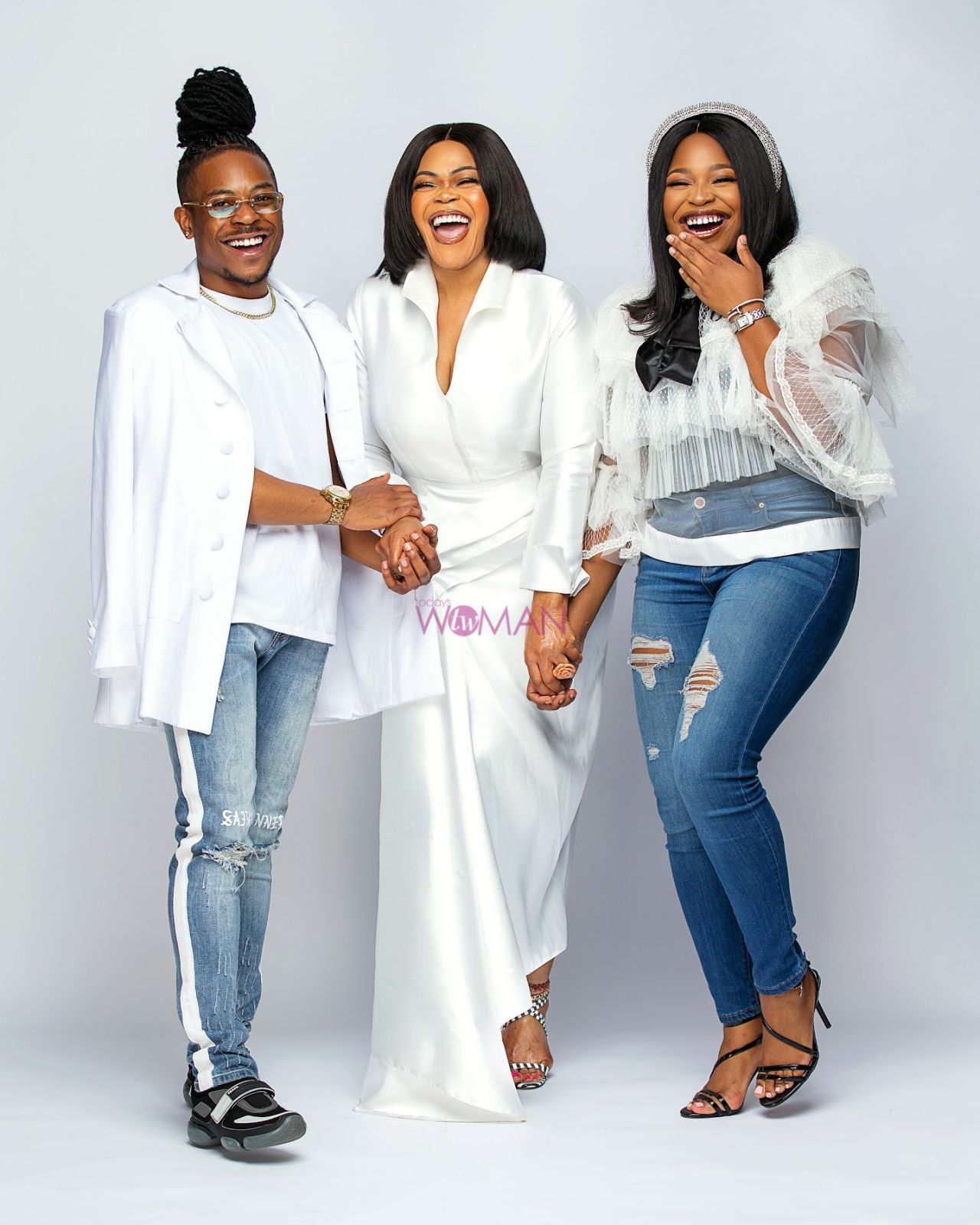 She's mother to two children; a boy and a girl named Ashton Akinrimisi and Ashley Akinrimisi.
Pastor Oluwatimilehin turns Ogun housewife, 2 daughters into sex slaves
The Police in Ogun have arrested Timothy Oluwatimilehin, the pastor of Spirit Filled International Christian Church, Olumore, Abeokuta for turning a housewife and her two daughters into sex slaves.
Oluwatimilehin had lured the housewife along with her two daughters away from her husband's home. He kept all in his house.
He regularly had sex with them, Ogun Police Public Relations Officer (PPRO), Abimbola Oyeyemi said in a statement.
The Pastor took advantage of the misunderstanding between the woman and her husband to carry out his sexual acts.
Oluwatimilehin was arrested following a complaint lodged at Adatan Police Division by the husband of the victim.
According to the police spokesperson, the husband, accompanied by an official of the Ministry of Women Affairs, had told the police that his wife and two daughters were lured by the pastor of their church, who took them into his custody.
He had since been having sex with both the mother and her daughters.
"Upon the report, the Divisional Police Officer (DPO) of Adatan Division, Abiodun Salau, detailed his detectives to effect the arrest of the randy clergyman.
"On interrogation, the pastor confessed to the commission of the crime but pleaded for forgiveness.
"In his confession, he explained that he took advantage of little misunderstanding between the woman and her husband to carry out the devilish act."
The PPRO said the state Commissioner of Police, Lanre Bankole, has directed the anti-human trafficking and child labour unit of the State Criminal Investigation and Intelligence Department to take over the case.
He also ordered diligent investigation, with a view to charge the suspect to court as soon as possible.
Regina Daniels releases chats with sex therapist, Jaruma
Regina Daniels has issued a statement addressing her dealings with Jaruma; detailing what went wrong between them.
Regina Daniels also explained that she and Jaruma had an agreement for her to advertise her products; which she did, but Jaruma then wanted her to go beyond their agreement; by posting things which were "deceitful" on her page.
Regina said she disagreed and when there was a "major crisis" going on in her family; Jaruma took advantage of that to promote her products; at the expense of the Nwoko family.
Regina is thought to be making reference to Jaruma's post; insinuating that Ned Nwoko's marriage to his Moroccan wife ended because of the kayanmata (sex-enhancing product) Regina allegedly used on Ned.
Regina also shared chats where she blasted Jaruma for claiming her use of kayanmata on Ned caused the problem between him and his Moroccan wife.
Regina reiterated that she has never used any of Jaruma's sex products.
See below:
Meanwhile, Kanye West had a lot to say in his latest interview with Hollywood Unlocked where he claimed there is a second s*x tape featuring his estranged wife, Kim Kardashian.
The rapper told host Jason Lee that he once retrieved a laptop from Ray J, who starred with Kim in a scandalous s*x tape released in 2007.
During the interview, Kanye reflected on Kim's new romance with comedian Pete Davidson before recalling the incident with Ray J.
"How you gonna bring me to SNL and kiss the dude you dating right in front of me?" he said. "And everybody's like, 'Oh, that's, that's cool.' After I went [and] got the laptop from Ray J myself that night, right?"
The Donda artist then said, "I met this man at the airport. Then got on a red eye came back, delivered it to her at 8:00 a.m. in the morning and then I gave it to her and she cried when she saw it."
Osun NSCDC arrests 24-year-old suspected online scammer
Bright Joseph, a 24-year-old suspected online scammer has been arrested by operatives of the Nigeria Security and Civil Defence Corps (NSCDC), Osun State Command.
Disclosing this via a statement made available to DAILY POST on Thursday in Osogbo, the spokesperson, Adigun Daniel, revealed that the suspect was arrested at his residence, Zone 6, Apete Area, Owode-Ede, on Wednesday, January 26, 2022.
Adigun, who disclosed that Johnson, a National Diploma (ND) certificate holder from Auchi Polytechnic, Edo State, stated that the suspect had fraudulently advertised on his Instagram handle the sales of eggs in a non-existent farm called Choice Farm he was operating which is located in Ogbogbo, Ijebu Ode, Ogun State.
The Osun NSCDC spokesperson explained that he had successfully scammed a 37-year-old Halima Ashifa, a resident of Sango Ota, Ogun State, before luck ran out for him.
According to Adigun, "Halima Ashifa signified interest in the supply of eggs and established contact with the suspect.
"She eventually made a cash transfer of a total sum of fifty-five thousand Naira (N55,000) in two instalments of seven thousand and five hundred naira (N7500) and forty-seven thousand and five hundred naira (N47,500) only for the eggs on January 21 and 25, 2022, respectively.
"The money was deposited in a GTBank account, which the suspect claimed was the account belonging to his company secretary. Whereas, the account number actually belongs to a Point Of Sales (POS) operator at Owode-Ede."
While disclosing that the crime committed by the suspect was tantamount to obtaining money under false pretence, Adigun stated that he had violated Section 1(1) A(C) of the Advanced Fee Fraud and Other Related Offences Act, 2006.
He explained that he contravened the act because he fraudulently obtained money from his victim knowing that he had no eggs for sale and he did not own any poultry farm.
The command spokesperson, however, stated that the suspect would be charged to court in due course because he has volunteered confessional statements to confirm his culpability.