Ukraine war live: EU accuses Putin of 'dangerous gamble' after his nuclear threat and 'partial mobilisation' of Russia | Russia & More Breaking News
Putin making a 'very dangerous nuclear gamble', says EU
Vladimir Putin is making a "very dangerous nuclear gamble" and must "stop such reckless behaviour", an EU executive has warned.
European Commission spokesperson Peter Stano added that the "sham, illegal referenda" planned in Luhansk, Donetsk, Kherson and Zaporizhzhia this weekend would not be recognised.
Stano told reporters:
Putin is doing a nuclear gamble. He's using the nuclear element as part of his arsenal of terror, it's unacceptable.
EU member states have held discussions on how to respond to the latest developments in Russia's war in Ukraine, he continued, warning Moscow that there would be "consequences from our part".
Key events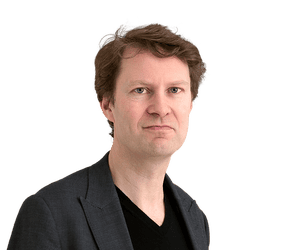 Luke Harding
Russia fired a series of long-range missiles at Ukraine's second city Kharkiv early on Wednesday, just hours after the Kremlin announced plans to annex Ukrainian territory and to carry out a partial mobilisation.
Explosions were heard across Kharkiv at around 2am. At least one missile struck a high-rise apartment in the western Zalutino district. It gouged a hole out of the top of the building and blew out windows in apartments facing onto a grassy square.
Ten residents were injured. It was unclear what Russia was trying to hit. An electricity sub-station targeted last week was several kilometres away. "There was a loud explosion. It was like a firework. I was in shock. I haven't really come to my senses," Raisa Nikolaivena, a 61-year-old pensioner said.
She added:
We are peaceful people, small people. It was quiet here up until this moment. Obviously this is Putin's fault. He's a terrorist and a criminal.
The emergency services sealed off the area. Municipal workers swept away debris and chopped down trees damaged in the blast. There was a sound of sawing as carpenters cut rectangles of plywood to be used to replace broken glass.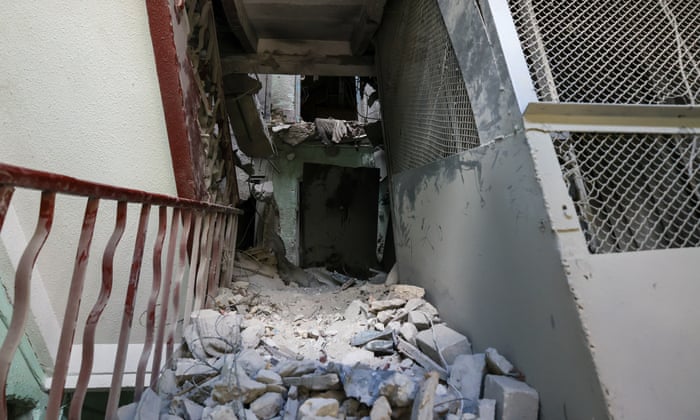 Kharkiv has been regularly bombarded since the start of Russia's invasion in February. The city is now out of artillery range, following Ukraine's stunning counter-offensive earlier this month. Russian troops abandoned their positions and retreated across the border.
Another resident, Yevgeniy Subota, said it was almost certainly a S-300 long-range missile which had crashed into his building. "Our balcony looks like chaos. The glass and a door blew in," he said. "We will repair it. And it looks like nobody died."
What did he make of Putin's threat to use nuclear weapons in the event of his defeat in Ukraine?
It's bluff. We don't believe it. There would be a reaction from the US. He's just trying to scare us.
Partial mobilisation of Russia's reservists 'clear admission' invasion of Ukraine failing, UK says
Vladimir Putin's announcement of partial mobilisation of Russia's military reservists is a "clear admission" his invasion of Ukraine is failing, Downing Street has said.
Britain will continue to support Ukraine in the face of "this assault on their sovereignty", a No 10 spokesperson said.
She said:
Putin's speech this morning and his move to mobilise the Russian population are a clear admission that his invasion is failing.

The UK alongside our international partners stand united in condemning the Russian government's reprehensible actions.
Nearly all flights out of Russia were sold out just hours after Vladimir Putin declared a partial mobilisation of reservists.
Google Trends data showed a spike in searches for Aviasales, Russia's most popular website for buying flights, after Putin's announcement sparked fears that some men of fighting age would not be allowed to leave the country.
Flights from Moscow to the capitals of Georgia, Turkey and Armenia, all destinations that allow Russians to enter without a visa, were sold out within minutes of Putin's announcement, according to Aviasales data.
Within hours, direct flights from Moscow to Azerbaijan, Kazakhstan, Uzbekistan and Kyrgyzstan had also stopped showing up on the website. Some routes with stopovers, including from Moscow to Tbilisi, were also unavailable.
The cheapest flights from Moscow to Dubai were costing more than 300,000 roubles (£4,320) – about five times the average monthly wage.
Russian missiles struck residential buildings in Ukraine's second city Kharkiv overnight, trapping civilians in their homes and wounding at least one person.
Kharkiv mayor Igor Terekhov said four projectiles had struck the Kholodnogorsky district, hitting two housing blocks, a building site and some civil infrastructure.
In one block, 10 residents were trapped until rescuers could arrive, he said.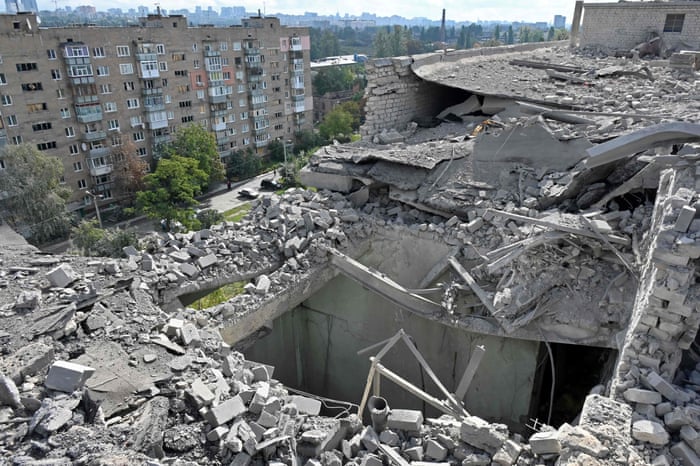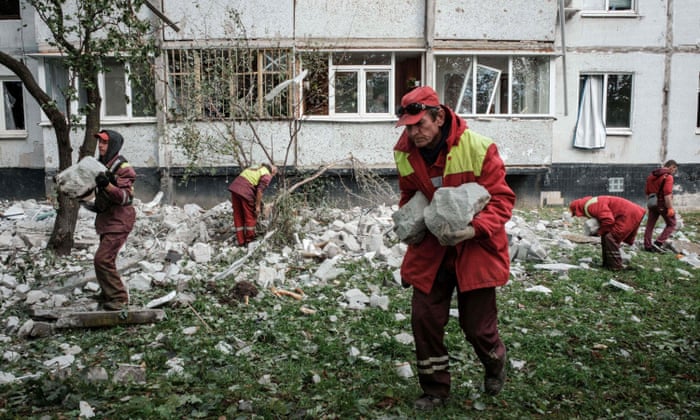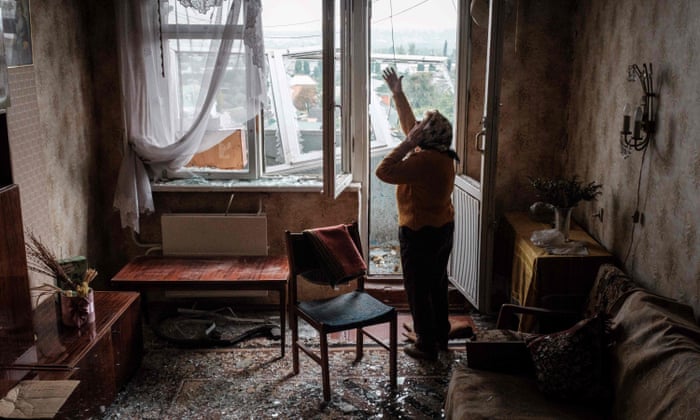 The Russian stock market tumbled after Vladimir Putin ordered his country's partial mobilisation and threatened the west with nuclear retaliation.
Putin's announcement sent the Moscow stock exchange's MOEX index plunging by as much as 10%, marking a second day in falling stocks.
On Tuesday, the rouble-denominated MOEX index fell by 8.7% to hit its lowest point since 16 August.
The pro-Kremlin analyst Sergei Markov has defended Vladimir Putin's partial mobilisation and blamed Boris Johnson and Liz Truss for the war in Ukraine.
Russia "has no reason to use technical nuclear weapons against Ukrainians", Markov, a former member of the Russian state Duma for Putin's party, United Russia, as well as a former adviser to the president, told BBC Radio 4's Today programme.
He said:
Ukrainians are our brothers but Ukraine is occupied by western countries and it's western countries fighting against the Russian army using Ukrainian soldiers as slaves. [This] was the main idea of Vladimir Putin's [address], that's why we need to have this partial mobilisation.
"Everybody in the world now is thinking of nuclear war", Markov went on to say, adding that such an escalation could be a result of the "crazy behaviour" of US president Joe Biden and former and current UK prime ministers, Johnson and Truss.
He added:
Biden, Johnson and Truss are fully responsible for the war in Ukraine.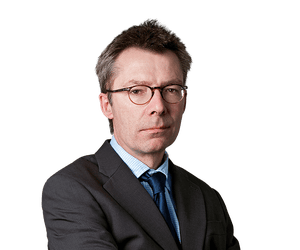 Patrick Wintour
The Estonian prime minister Kaja Kallas, one of the hardline opponents of Vladimir Putin, urged the west not to waver in the face of Putin's nuclear blackmail.
She said :
This is the first time that the Kremlin leadership has spoken after the counteroffensive of Ukraine. They need to show that they are taking the initiative. If Russia cannot win conventionally, they threaten with nuclear weapons and look for ways to demonstrate a political victory.

President Putin's speech was meant to scare the international community. As for nuclear threats, the aim is the same as it has been so far – it is to fuel fear and terrorise the wider publics. The Kremlin is blackmailing the international community and wants to scare us and deter us from helping Ukraine. Europe will not tire; we will continue to defend and uphold the principles of European security and international law.

Nato is a defensive alliance and a nuclear alliance. Unlike Russia, we don't threaten the world with nuclear catastrophe. Threatening with nukes belongs to the arsenal of a pariah state. This is completely irresponsible and unacceptable.
Putin making a 'very dangerous nuclear gamble', says EU
Vladimir Putin is making a "very dangerous nuclear gamble" and must "stop such reckless behaviour", an EU executive has warned.
European Commission spokesperson Peter Stano added that the "sham, illegal referenda" planned in Luhansk, Donetsk, Kherson and Zaporizhzhia this weekend would not be recognised.
Stano told reporters:
Putin is doing a nuclear gamble. He's using the nuclear element as part of his arsenal of terror, it's unacceptable.
EU member states have held discussions on how to respond to the latest developments in Russia's war in Ukraine, he continued, warning Moscow that there would be "consequences from our part".
In a national address on Wednesday, Russian president Vladimir Putin said Russia will be mobilising further troops for the war in Ukraine.
He claimed that the west is using the threat of nuclear weapons to blackmail Russia, and that "those who try to blackmail us with nuclear weapons should know that the weathervane can turn and point towards them".
Putin also said Russia would give its full support to the referendums announced for this weekend in Luhansk, Donetsk, Kherson and Zaporizhzhia to join the Russian Federation.
The jailed Russian opposition leader Alexei Navalny has accused Vladimir Putin of trying to "smear hundreds of thousands of people" in a "criminal war" after the Russian president announced a partial mobilisation.
In a video message from jail recorded and published by his lawyers, Navalny said partial mobilisation would lead to "massive tragedy".
Navalny, who is serving more than a decade in prison in a series of cases that appear designed to keep him behind bars indefinitely, said:
This will result in a massive tragedy, in a massive amount of deaths … in order to keep his personal power, Putin went into a neighbouring country, killed people there and is now sending a huge quantity of Russian citizens into this war.
He added:
It is clear that the criminal war is getting worse, deepening, and Putin is trying to involve as many people as possible in this. He wants to smear hundreds of thousands of people in this blood.
Hello everyone. I'm Léonie Chao-Fong and I'll be bringing you all the latest developments on the Russia-Ukraine war. Feel free to drop me a message if you have anything to flag, you can reach me on Twitter or via email.
Summary of the day so far …
Vladimir Putin has announced a partial mobilisation in Russia in a significant escalation that places the country's people and economy on a wartime footing.

The president also threatened nuclear retaliation, saying that Russia had "lots of weapons to reply" to what he called western threats on Russian territory and added that he was not bluffing. In a highly anticipated televised address, Putin said the "partial mobilisation" was a direct response to the dangers posed by the west, which "wants to destroy our country", and claimed the west had tried to "turn Ukraine's people into cannon fodder".

"Military service will apply only to citizens who are in the reserve, especially those who have served in the armed forces, have certain military professions and relevant experience," Putin said. Shortly after the president's announcement, the country's defence minister, Sergei Shoigu, said 300,000 Russians "with previous military experience" would be called up. According to the decree signed by Putin on Wednesday, the contracts of soldiers fighting in Ukraine will be extended until the end of the partial mobilisation period.

Shoigu also announced that Russia had officially lost 5,937 personnel in the "special military operation" in Ukraine since it invaded on 24 February. The latest claimed casualty figure for pro-Russian forces by the Ukrainian armed forces is nearly ten times that number, at just over 55,000.

The Ukrainian presidential adviser Mykhailo Podolyak said Putin's decision to announce a partial mobilisation was a "predictable step" that highlights that the war was not going according to the Kremlin's plan.

Putin's speech was also swiftly condemned by western leaders. Germany's vice-chancellor, Robert Habeck, said Russia's decision to announce a partial mobilisation was "another bad and wrong step from Russia". British defence secretary Ben Wallace said: "Putin's breaking of his own promises not to mobilise parts of the population and the illegal annexation of parts of Ukraine are an admission that his invasion is failing."

Putin's decision to announce a partial mobilisation sent shockwaves across Russia. Since the start of the invasion, the Russian president has sought to shield his population from the grim realities of war, with the Kremlin eager to cultivate a sense of normality on the streets of Moscow and other major cities. But with the decision to announce a partial mobilisation and the call-up of 300,000 mostly young Russian men, the war will now enter the household of many families across the country.
Lithuania's defence minister Arvydas Anušauskas has said the country is to put its rapid reaction force on high alert, as the mobilisation will also occur on its border with the Russian exclave of Kaliningrad.

Latvia's foreign minister Edgars Rinkēvičs said the country will not offer refuge to any Russians fleeing Moscow's mobilisation of troops.

Putin also said Russia would give its full support to the referendums announced for this weekend in Luhansk, Donetsk, Kherson and Zaporizhzhia to join the Russian Federation. He accused the west of starting a war against Russia in Ukraine in 2014. "In its aggressive anti-Russian policy the west has crossed all lines," the Russian president said.

The proxy Russian authorities in four occupied areas of Ukraine had announced on Tuesday their intentions to hold referendums between 23-27 September on joining the Russian Federation.

Ukrainian president Volodymyr Zelenskiy, speaking in a video address released early on Wednesday, said in relation to the referendums: "Our position does not change according to this noise or any other announcement". Kyiv said the "sham" referendums were meaningless and vowed to "eliminate" threats posed by Russia, saying its forces would keep retaking territory regardless of what Moscow or its proxies announced. Zelenskiy will speak to the UN general assembly by video-link on Wednesday.
That is it, from me, Martin Belam in London for now. I will be back later on. Léonie Chao-Fong will be here shortly to take you through the rest of the days developments and reaction to Vladimir Putin's announcement this morning.
Poland's prime minister Mateusz Morawiecki has reiterated his country's support for Ukraine. Reuters reports he told the media:
We will do all we can with our allies, so that Nato supports Ukraine even more so that it can defend itself. The reports about partial mobilisation have been confirmed. Russia will attempt to destroy Ukraine and grab some of its territory. We can't allow for that.
Morawiecki was attending military drills the Polish army held with US and British allies in eastern Poland.
Finland's defence minister, Antti Kaikkonen said, has said the country is closely monitoring the situation in neighbouring Russia.
"Regarding Finland's surroundings, I can say that the military situation is stable and calm," Reuters reports Kaikkonen said. He added: "Our defence forces are well-prepared and the situation is closely monitored."
Earlier this year, Finland applied to join the Nato alliance.
Russian proxy authority says occupied areas of Mykolaiv region to be incorporated into Kherson before referendum – reports
The Russian-installed administration of southern Ukraine's Kherson province said parts of the neighbouring Mykolaiv region that are under the control of Russian forces would be incorporated into Kherson province, Russia's Tass news agency reported.
Reuters notes the decision would mean the incorporated region also voting in the proposed referendum this weekend on being annexed by Russia.
Russian defence minister: losses in Ukraine reach 5,937
The Tass news agency is reporting in Russia that defence minister Sergei Shoigu has said on the Russia-24 TV channel that Russia has officially lost nearly 6,000 people during its so-called "special military operation" in Ukraine, which began on 24 February. It quotes him saying:
I can't help but say that we haven't talked about this for a long time: about our losses. Our losses in the special operation amounted to 5,937 people.
He also claimed that 90% of those injured during the invasion had been able to return to duty thanks to the work of doctors.
The figure of 5,937 people is in stark contrast to the figure claimed by the general staff of the armed forces of Ukraine. In its daily operation briefing today it claimed to have killed 300 enemy combatants in the last 24 hours alone, taking the total figure of people it says it has killed to 55,100.
Neither figure has been independently confirmed. The figure given by the Ukrainian side is likely to be an estimate, and may include volunteers and forces of the so-called Donetsk People's Republic and Luhansk People's Republic, which Russia is unlikely to include in its official military losses data.
I have tried to give all kinds of news to all of you latest news today 2022 through this website and you are going to like all this news very much because all the news we always give in this news is always there. It is on trending topic and whatever the latest news was
it was always our effort to reach you that you keep getting the Electricity News, Degree News, Donate News, Bitcoin News, Trading News, Real Estate News, Gaming News, Trending News, Digital Marketing, Telecom News, Beauty News, Banking News, Travel News, Health News, Cryptocurrency News, Claim News latest news and you always keep getting the information of news through us for free and also tell you people. Give that whatever information related to other types of news will be
You will like the news that I have created and shared with you all very much. We will continue to include themes for you to read about so that you may learn about hot news topics, which is what we hope you will be able to do.all kinds of news without going through us so that we can reach you the latest and best news for free so that you can move ahead further by getting the information of that news together with you. Later on, we will continue
to give information about more today world news update types of latest news through posts on our website so that you always keep moving forward in that news and whatever kind of information will be there, it will definitely be conveyed to you people.
All this news that I have brought up to you or will be the most different and best news that you people are not going to get anywhere, along with the information Trending News, Breaking News, Health News, Science News, Sports News, Entertainment News, Technology News, Business News, World News of this made available to all of you so that you are always connected with the news, stay ahead in the matter and keep getting today news all types of news for free till today so that you can get the news by getting it. Always take two steps forward
Credit Goes To News Website – This Original Content Owner News Website . This Is Not My Content So If You Want To Read Original Content You Can Follow Below Links