Dramatic rescues in NSW with severe weather warnings issued from Kempsey to the Queensland border & More Breaking News
Several people have been rescued from flooded vehicles in western NSW and heavy downpours are forecast to continue pounding rain-soaked regions along the coast overnight. 
Key points:
Inland NSW appears to have avoided significant flooding
There are severe weather warnings for the Mid North Coast and Northern Rivers
The SES says too many people have had to be rescued from their cars in the state's Central West
Forecasters say rainfall is setting in on the Mid North Coast, where the risk of flooding is expected to rise in the next 12 to 24 hours. 
The Bureau of Meteorology has issued a severe weather warning from Kempsey to the Queensland border, while parts of the Northern Tablelands are warned to be on alert for severe thunderstorms in coming hours.
Already significant rainfall totals have been recorded, with 187 millimetres falling at Lowanna near Coffs Harbour in the past 24 hours.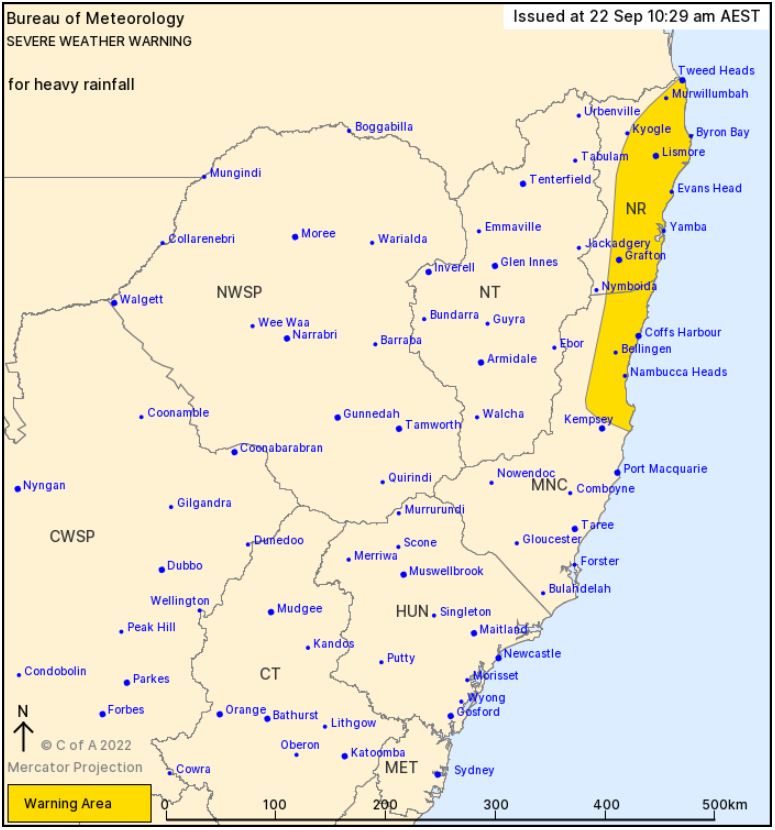 With more rain and thunderstorms in the state's hard-hit north expected, forecaster Jane Golding said much of the bad weather would hit this afternoon and overnight.
But Ms Golding said this time around was "a very different system" to the one that affected the Northern Rivers earlier this year with falls of 100 millimetres and "bullseyes" of intense rain.
State Emergency Service Commissioner Carlene York said specialist crews and helicopters had been moved to the region in preparation.
"At this stage we're watching very closely over the next few hours to make sure that we get those warnings and information out to the community as quickly as possible," she said.
Ms York urged residents and school holiday-makers to be on alert and keep an eye on warnings.
Flood watches are also in place for rivers across the state, with major flooding possible on the Namoi at Wee Waa in the north, on the Lachlan at Warren and further downstream at Euabalong in the central west.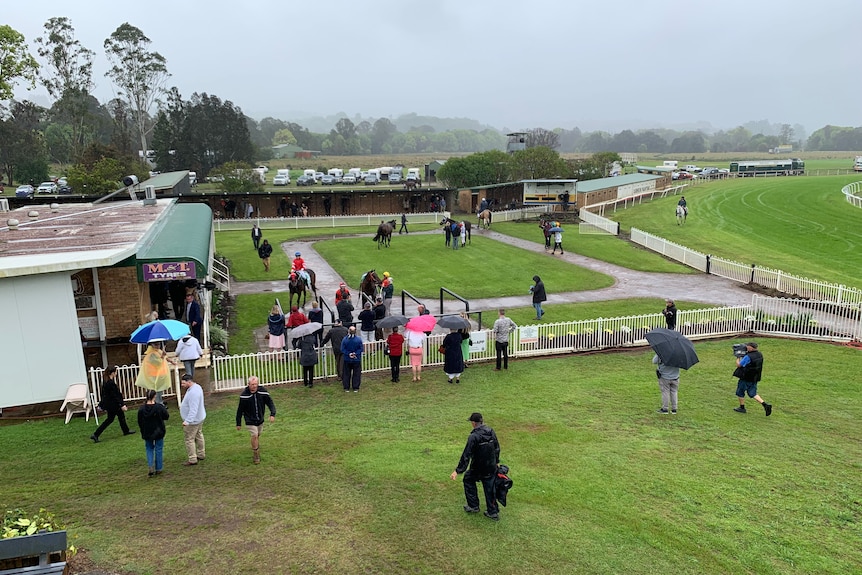 The annual Lismore Cup was cancelled mid-meeting after stewards decided the track was too wet for racing.
Local trainer Daniel Bowen had seven horses entered and unable to race but said, "It's not the end of world.
"At the end of the day, the [call was made for the] safety for the rider and horse."
Despite that, punters were still enjoying the social atmosphere and the fashions on the field competition was held.
Further south, the falls have again prompted concerns that septic tanks at Stuarts Point near Kempsey will require pumping.
Previous severe weather has compromised some of the Kempsey Shire Council's septic systems and it said resources have been sent to the water plant in a bid to avoid further breaches.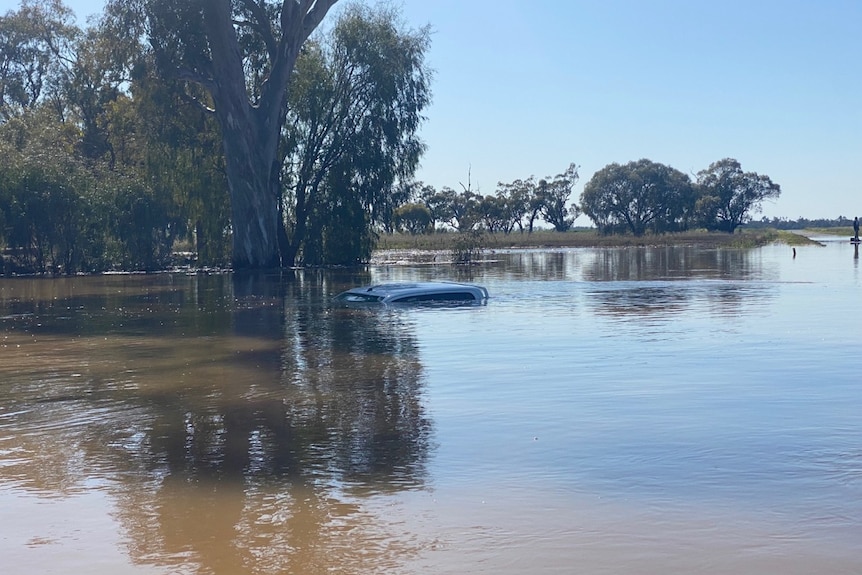 Dramatic rescues overnight
SES Commissioner Carlene York said 49 flood rescues and over 500 calls for help had been made.
Among them, a car was washed off the causeway in Toongi, near Dubbo, after a creek rose quickly and ran over the Obley Road.
The driver managed to escape the car in time.
Residents who rushed to the person's aid said there were no signs and noted "by the time you see the water it's too late to stop".
"It was pretty dangerous, they were so lucky to get out of it," Sam Tourle said.
"We were there for a while trying to smash the windows to try see if someone was still inside, it was a big relief when we got the call that they made it out."
Most inland communities escape the worst
The SES deployed crews to Trundle near Parkes in the state's Central West after it was surrounded by floodwater.
Sixteen calls for help had been made from the town and outlying properties, which resulted in three rescues and one helicopter evacuation.
The small town has been surrounded by floodwater.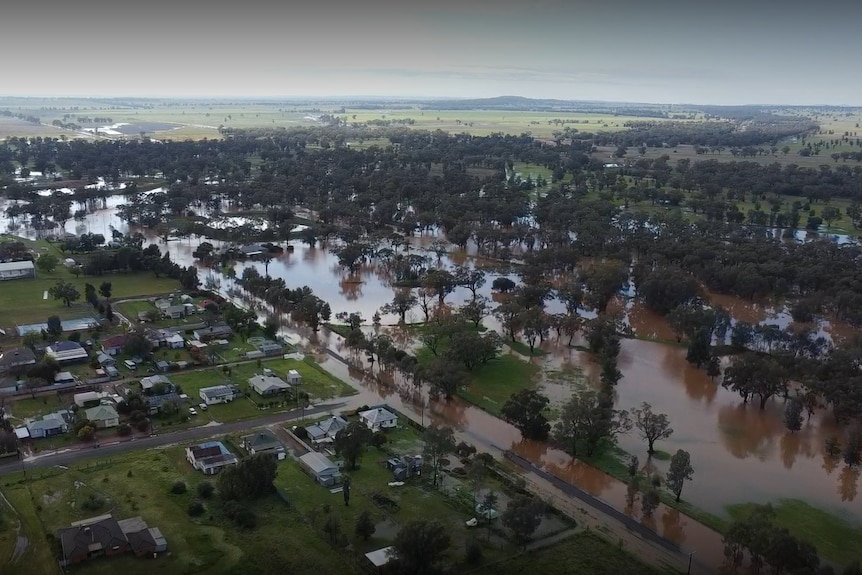 Meanwhile, predictions of significant flooding for areas of the north-west have not materialised so far.
Since 9am Wednesday, Gunnedah and Glenn Innes received almost 50mm and Inverell and Tamworth recorded just shy of 40mm.
The bureau said moderate flooding was possible at Tamworth later tonight.
There's a minor to major flood warning for the Namoi River with flooding expected at Gunnedah tomorrow and Boggabri during the weekend.
David Rankine from the SES said Gunnedah is prepared should river levels rise again.
"The SES were preparing for a flood similar to that of last week in Gunnedah," he said.
"[However] as we wake this morning, [it] doesn't look to be the case."
Across the Central West persistent rainfall saw high totals recorded across the district, but the storms were not as bad as predicted.
Almost 30mm was recorded at Dubbo and more than 20mm fell in the already flood-affected towns of Condobolin and Forbes.
The Coonabarabran Airport received 42mm since 9am on Wednesday.
Additional reporting by Mollie Gorman and Nick Parmeter
World Latest News Update
I have tried to give all kinds of news to all of you latest news today 2022 through this website and you are going to like all this news very much because all the news we always give in this news is always there. It is on trending topic and whatever the latest news was
it was always our effort to reach you that you keep getting the Electricity News, Degree News, Donate News, Bitcoin News, Trading News, Real Estate News, Gaming News, Trending News, Digital Marketing, Telecom News, Beauty News, Banking News, Travel News, Health News, Cryptocurrency News, Claim News latest news and you always keep getting the information of news through us for free and also tell you people. Give that whatever information related to other types of news will be
World Live News
You will like the news that I have created and shared with you all very much. We will continue to include themes for you to read about so that you may learn about hot news topics, which is what we hope you will be able to do.all kinds of news without going through us so that we can reach you the latest and best news for free so that you can move ahead further by getting the information of that news together with you. Later on, we will continue
to give information about more today world news update types of latest news through posts on our website so that you always keep moving forward in that news and whatever kind of information will be there, it will definitely be conveyed to you people.
World News Today
All this news that I have brought up to you or will be the most different and best news that you people are not going to get anywhere, along with the information Trending News, Breaking News, Health News, Science News, Sports News, Entertainment News, Technology News, Business News, World News of this made available to all of you so that you are always connected with the news, stay ahead in the matter and keep getting today news all types of news for free till today so that you can get the news by getting it. Always take two steps forward
Credit Goes To News Website – This Original Content Owner News Website . This Is Not My Content So If You Want To Read Original Content You Can Follow Below Links
Get Original Links Here🡽