Russia. He called the son of a Kremlin spokesman, Nikolai Peskov, about mobilization. He called to the front. Recording & More Breaking News
My son's statement about appearing before the military command for replenishment has been taken out of context, said Kremlin spokesman Dmitry Peskov. Earlier, his 32-year-old son was called by an associate of the opposition activist Alexei Navalny, who pretended to be an employee of the police station and called on the man to report as part of a mobilization ordered by President Putin. The son of a Kremlin spokesman recalled his "last name" and replied that "it will be dealt with at a different level".
TVN24.pl report: RUSSIA'S ATTACK ON UKRAINE
A Kremlin spokesman was asked on Wednesday to comment on the situation involving his son, which had happened a few hours earlier. 32-year-old Nikolai Peskov, a former rocket soldier, was called by an associate of the well-known opposition activist Alexei Navalny, Dmitry Nizovsev, who pretended to be an employee of the military replenishment command.
– Mr. Peskov, you were sent a summons to the front today, on paper, but you did not answer. There was a number you were supposed to call back on and come to our office at 10 am tomorrow at the replenishment station. First, why haven't you called back, and secondly, will you come to headquarters tomorrow? We are waiting for you at 10 o'clock – said the activist.
– Tomorrow at 10? Of course I won't be able to come, replied the son of a Kremlin spokesman. "You should understand, if you know my name is Peskov, then you should understand how inadequate it is for me to be there." In short, I will do this at a different level. I have to understand what and how to do – was the answer.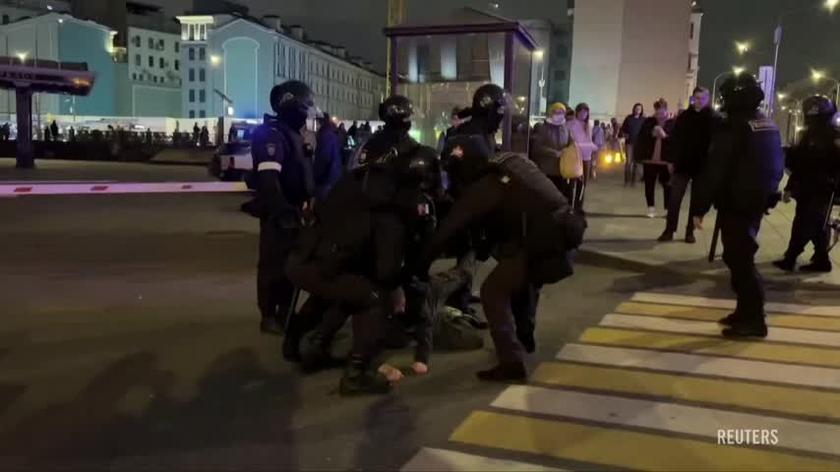 "Political nuances"
The son of a Kremlin spokesman explained during an interview with Navalny's associate who said he was an employee of the replenishment command that "there are no problems with defending the homeland". "But, I just have to understand the purposefulness of my appearance here." It's not that easy. I'm talking about certain political nuances, he argued.
When asked by Nizovsev what these "political nuances" were, he replied: – I can't explain anything now. If it is necessary to defend the motherland, please do not worry, I will be with you, but the fact that I will not be there tomorrow is another matter.
Dmitry Nizovsev published the interview with Peskov's son in its entirety, on the Internet, on the Popularna Polityka channel (Populiarnaja Politika). He did not disclose how he got the cell phone number for the son of Vladimir Putin's spokesman.
Peskov: I don't watch videos produced by this prisoner's team
Vladimir Putin's spokesman himself commented on the conversation with Nikolai Peskov, disclosed by his associates. Dmitry Peskov was asked about it by journalists.
– First, ask them (Navalny's associates – ed.) To share the entire conversation. I have no doubts about his (son – editor's note) the only right choice – explained Pieskow. As he added, "he does not watch the video materials produced by this prisoner's team (this is what he called Alexei Navalny – editor's note)", but – as he said – his son told him the content of this conversation.
Peskov said nothing more. – I don't want. This applies to my son, so I am not obligated, he said.
The daily "Kommersant" recalled that 32-year-old Nikolai is the son of Dmitry Peskov from his first marriage. In 2010-2012, he served in the missile forces. After serving in the army, he worked for some time as a correspondent for the propaganda and pro-Kremlin TV Russia Today.
Prime Minister's son "doesn't want to fight"
Dmitry Nizovsev also called the son of Prime Minister Mikhail Mishustin, 23-year-old Alexei, on Wednesday. He replied that "he doesn't want to fight yet". He also added that he "is involved in education" and attends graduate studies, so – as he explained – he does not need to be sent to the front.
On Wednesday, President Vladimir Putin announced a partial mobilization in Russia aimed at reservists and those who received military training. Defense Minister Sergei Shoygu announced that the mobilization would involve at least 300,000 people. After Putin's decision, the Russians began to take to the streets in protests. Demonstrations were organized in 32 cities across the country, police detained over 1,300 people.
The independent portal Meduza reported that mobilization calls were given to detained participants of the demonstration.
Navalny, who is serving a nine-year prison sentence for alleged contempt of court and "embezzlement", said through his associates that Putin's mobilization "will lead to huge tragedies and huge numbers of deaths." The opposition activist also predicts that "millions of Russians will avoid her".
Kommiersant, Radio Swoboda, tvn24.pl
World Latest News Update
I have tried to give all kinds of news to all of you latest news today 2022 through this website and you are going to like all this news very much because all the news we always give in this news is always there. It is on trending topic and whatever the latest news was
it was always our effort to reach you that you keep getting the Electricity News, Degree News, Donate News, Bitcoin News, Trading News, Real Estate News, Gaming News, Trending News, Digital Marketing, Telecom News, Beauty News, Banking News, Travel News, Health News, Cryptocurrency News, Claim News latest news and you always keep getting the information of news through us for free and also tell you people. Give that whatever information related to other types of news will be
World Live News
You will like the news that I have created and shared with you all very much. We will continue to include themes for you to read about so that you may learn about hot news topics, which is what we hope you will be able to do.all kinds of news without going through us so that we can reach you the latest and best news for free so that you can move ahead further by getting the information of that news together with you. Later on, we will continue
to give information about more today world news update types of latest news through posts on our website so that you always keep moving forward in that news and whatever kind of information will be there, it will definitely be conveyed to you people.
World News Today
All this news that I have brought up to you or will be the most different and best news that you people are not going to get anywhere, along with the information Trending News, Breaking News, Health News, Science News, Sports News, Entertainment News, Technology News, Business News, World News of this made available to all of you so that you are always connected with the news, stay ahead in the matter and keep getting today news all types of news for free till today so that you can get the news by getting it. Always take two steps forward
The Article Is In Polish🡽