Russia trades Azov fighters for Putin ally in biggest prisoner swap of Ukraine war | Ukraine & More Breaking News
More than 200 Ukrainian and foreign citizens have been released from Russian captivity, including fighters who led the defence of the Azovstal steelworks in Mariupol, in the biggest prisoner swap since Russia's invasion of Ukraine in February.
In return, Russia received 55 prisoners from Ukraine, including the former Ukrainian MP Viktor Medvedchuk, an ally of Vladimir Putin accused by Ukraine of high treason.
The swap came after mediation by Turkey, with negotiations carried out in strict secrecy. News of the swap broke in the early hours of Thursday and came as a surprise, just a day after the Russian president had announced mobilisation and threatened nuclear strikes.
Russia released 215 prisoners, including Ukrainian border guards, police officers, soldiers and others, as well as the Azov fighters, the Ukrainian president, Volodymyr Zelenskiy said. A number of Russian prisoners of war were also sent back to Moscow, while ten foreigners, including five Britons and two Americans, were released by Russia.
"We have freed 215 of our people from captivity, of whom 124 are officers. Of those we have freed, 108 are Azov fighters," said Andriy Yermak, Zelenskiy's chief of staff.
Medvedchuk, a Ukrainian politician who ran a pro-Russia political party before the outbreak of the war, was known as Putin's closest ally in Ukraine. The Russian president is godfather to his daughter.
Medvedchuk was arrested in April after escaping house arrest on treason charges days after Russia launched its invasion. Zelenskiy called on Russia at the time to exchange him for Ukrainian prisoners of war, but the Kremlin rejected the offer.
In a statement about the swap, Zelenskiy said Ukraine had got a good deal.
"I am not sad about swapping Medvedchuk for real warriors. He has gone through all investigative procedures according to the law and Ukraine has got everything from him it needs to determine the truth," he said.
The Azov fighters surrendered in May after a long siege at the steelworks. They had refused to surrender for weeks despite running out of ammunition and with many wounded in the underground tunnels of the vast Azovstal plant.
Russia has previously described the Azov fighters as "neo-Nazis" and made frequent public statements about wanting to hold a "Nuremberg 2.0" show trial. Russia's embassy in Britain tweeted in July that the fighters should be hanged. "They deserve a humiliating death," it said. Russian propagandists are now scrambling to explain why the fighters have been released.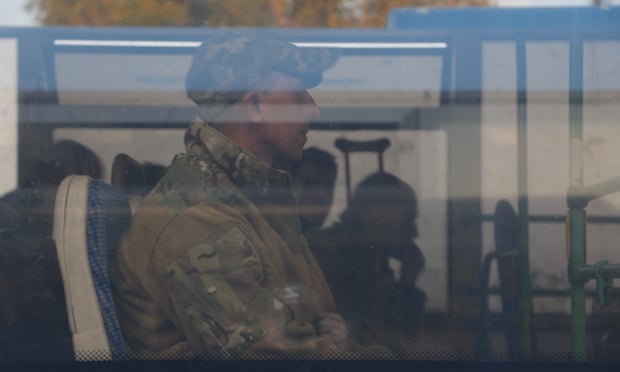 In Ukraine, where the Azov fighters have become national heroes, news of the swap was met with delight.
"We are extremely proud of what our heroes have done. We are so proud of each of you," the Ukrainian MP Kira Rudik tweeted.
Zelenskiy said five military commanders, including leaders of the defence of Azovstal, would remain in Turkey "in total security and in comfortable conditions" until the end of the war. There was no comment from Moscow.
The 10 foreign prisoners of war were transferred from Russia to Saudi Arabia earlier on Wednesday.
World Latest News Update
I have tried to give all kinds of news to all of you latest news today 2022 through this website and you are going to like all this news very much because all the news we always give in this news is always there. It is on trending topic and whatever the latest news was
it was always our effort to reach you that you keep getting the Electricity News, Degree News, Donate News, Bitcoin News, Trading News, Real Estate News, Gaming News, Trending News, Digital Marketing, Telecom News, Beauty News, Banking News, Travel News, Health News, Cryptocurrency News, Claim News latest news and you always keep getting the information of news through us for free and also tell you people. Give that whatever information related to other types of news will be
World Live News
You will like the news that I have created and shared with you all very much. We will continue to include themes for you to read about so that you may learn about hot news topics, which is what we hope you will be able to do.all kinds of news without going through us so that we can reach you the latest and best news for free so that you can move ahead further by getting the information of that news together with you. Later on, we will continue
to give information about more today world news update types of latest news through posts on our website so that you always keep moving forward in that news and whatever kind of information will be there, it will definitely be conveyed to you people.
World News Today
All this news that I have brought up to you or will be the most different and best news that you people are not going to get anywhere, along with the information Trending News, Breaking News, Health News, Science News, Sports News, Entertainment News, Technology News, Business News, World News of this made available to all of you so that you are always connected with the news, stay ahead in the matter and keep getting today news all types of news for free till today so that you can get the news by getting it. Always take two steps forward
Credit Goes To News Website – This Original Content Owner News Website . This Is Not My Content So If You Want To Read Original Content You Can Follow Below Links
Get Original Links Here🡽